Fourth Street, only a few blocks long, is a tree lined street which has the feel of a small shopping village. I've heard that the stores bring in more tax revenues than any of Berkeley's other shopping districts... and I believe it. The stores and restaurants - Sur La Table, Restoration Hardware, Cafe Rouge, Bette's Oceanview Diner are always pleasant to visit. Did I mention our Apple Store ... and two great bookstores - Builders' Booksource and Books, Inc?

Much of 4th Street (north of University Avenue) has been developed by Abrams, Milliken & Kent into Berkeley's most upscale shopping area.

Originally, this was the town of Oceanview, and of the Victorian buildings and churches have been well preserved. The Berkeley Pier originally a ferry pier which ran several miles into the bay. It's now about a half mile long and is a fishing pier.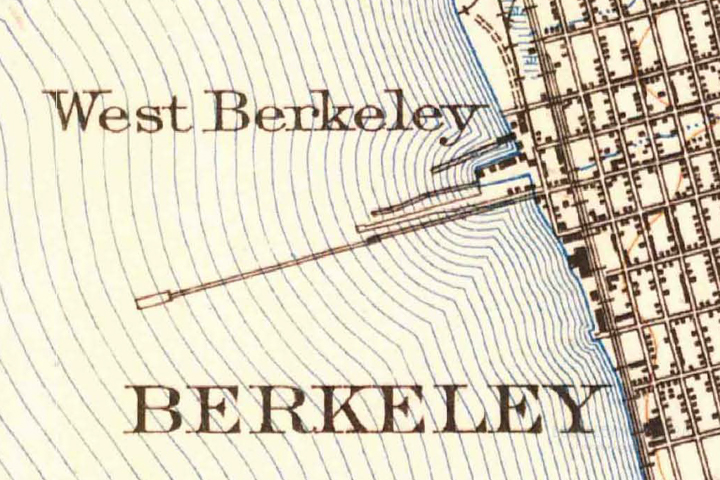 You can get a feel for Oceanview by walking up the pedestrian walkway from Peet's to 5th Street, and marvel at the water tower which was converted to a funky living space on 3 levels. Walk south on fourth street and you'll come to Spengers Seafood Restaurant (rooms and rooms of dining rooms), and then Brennan's Restaurant (now in the old Southern Pacific depot), the place to go for a hofbrau lunch... or to celebrate St. Patrick's Day

Taking Amtrak to Sacramento or Lake Tahoe? You can pick up the train in Berkeley's updated Amtrak Rail Stop and Transit Plaza and at University Avenue and 3rd Street. That's where I picked up my brother Bruce when he took the train from a meeting in Sacramento. He felt like a rock star when he took the Amtrak California train - lots better than the LIRR into Penn Station. Be sure to take in the Berkeley's newest mural while you are there.

Larger, staffed, East Bay train stations are at Emeryville (that's where you pick up the train to Chicago) and Jack London Square. You can even take Amtrak California to San Jose... much easier (but less frequent) than taking BART across the bay, MUNI to the Caltrain Depot, and Caltrain to San Jose.