How would you like us to communicate with you?
With Us, You'll Always Know What's Going On!
We'll keep you informed by phone, email, text, screen sharing, facetime chats or skype calls - Just tell us which you prefer!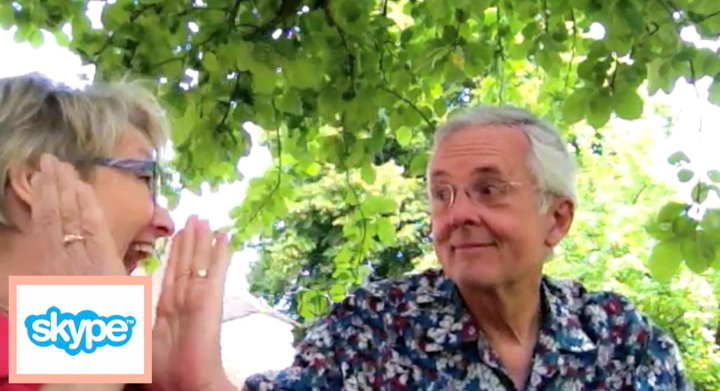 We negotiated Walt & Robin's Sale while they were under an ancient apple tree ... in Normandy!
Ira and Carol were wonderful to work with. They answered the phone when I called, or called me back the same day. They called me with updates on what was happening. They actually were present at the open houses that they had. Unbelievable! (more...)
Joan Trombley, Residence Club
5858 Ocean View, Rockridge, Oakland
We had lived in our home in Albany for over twenty-seven years and we were apprehensive that putting it up for sale would be a trying and difficult process. Quite the contrary, you kept us informed and updated throughout the process. (more...)
Harry & Gayle Willett
625 Curtis Street, Albany
Admittedly, we had some skepticism about real estate agents. But the Serkes' approach and open communication style quickly allowed us to relax, and we felt that our best interests were being served. Some of the specifics of our dream house search are also telling: (more..)
Emily and Kevin Ahlvin
829 Carmel, Albany
After talking with you and learning about your experience, I felt so comfortable, I decided to put the house on the market with your assistance without ever going back to California or meeting you personally. My decision was confirmed throughout the selling process. (more...)
Lisa Newton, Contract Negotiator, Cisco Systems
1505 Holly Street, North Berkeley
Carol and Ira you were both wonderful to work with - always stating clearly and calmly what you needed us to do next and providing us with ample information and our options succinctly outlines so we could make our decisions easily and quickly
John & Rebecca
As the negotiations proceeded (and sometime got a bit strange), they kept me informed of every tiny detail by phone calls, faxes, and mail. My calls were returned promptly and courteously..(more...)
Amjad Noorani, Chiropractor
2542 Hillegass, Berkeley
Interested in finding out how our extraordinary Seller Brokerage Program will benefit you? Call 510-526-6668 or 800-887-6668, fill out our information request form, or email ira@berkeleyhomes.com for more details!