The 2014 Berkeley Real Estate Market Research Report!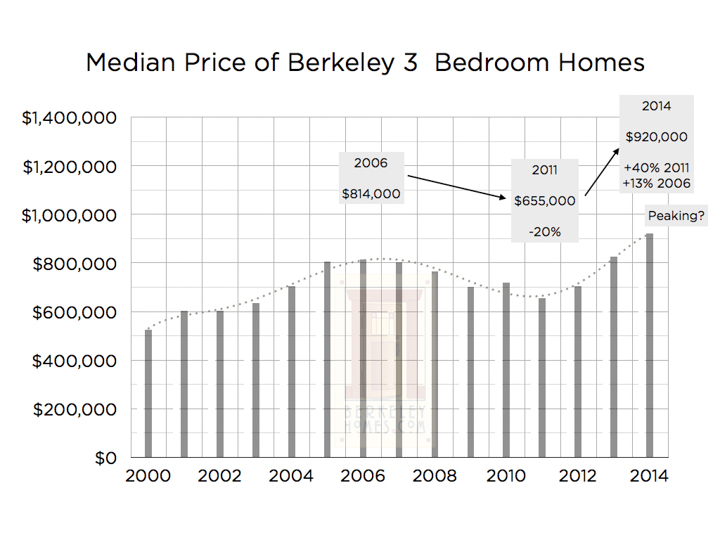 Full Report
Click the above graph or the 2014 Berkeley Real Estate Market Report link to see the details. Here's a quick summary".
Price Trends
I researched Berkeley Sales Prices over a 15 year period.

Berkeley homes prices are now greater than 2006 values, and up significantly from the 2011 prices.
The trend shows Berkeley home prices will likely increase in 2015, albeit probably at a slower rate than we saw in the 2012-2013-2014 period.

2015 looks like it will be a good year for selling ... particularly if you're planning to downsize or relocate as so many of our other sellers have done.
Berkeley Fine & Luxury Homes
Over the past 15 years, Berkeley fine and luxury homes (those in the highest 5%) have sold for about twice that of Berkeley's median price.

What's interesting is that the difference between the median price and top 5% increased in 2014.

High Net Worth Individual (HNWI) value both time and money, and time is the more precious commodity. Thus, since they have the resources, they're able and willing to pay a higher price for a home because they're limited in time.
The Next Step
Thinking of selling? Call us at 510-526-6668 or email serkes@berkeleyhomes.com. We'll prepare detailed market research and analysis customized for your home, and discuss the options best for you!

Ira & Carol Serkes, Certified Residential Specialists

How accurate is your home's Zillow Zestimate® of Value?
Recent sales demonstrate that the Zillow Zestimate® estimate of value is very good ... at being incorrect!
Two homes on Contra Costa in Thousand Oaks closed within 46 days of each other. 868 Contra Costa sold for $473,826 more than the $1,167,034 Zestimate®, 910 Contra Costa, only 5 doors away, sold for $437,681 less than the $1,102,681 Zestimate®. The Zestimates® were only about $64,000 apart; the sales prices differed by over $900,000! Thus, the answer to the $64,000 question "How accurate is Zillow?" ... not very accurate at all!

Here's how the Zestimate® compared to actual sales prices – over half of them were off by more than $100,000.

Call us at 510-526-6668 when you're ready to find out what your home's really worth in todays' market!

Would you like a real estate market report customized for your home? Email serkes@berkeleyhomes.com and I'll prepare one for you!

One of the most important components of our seller and buyer representation is to provide our clients with the research and analysis they need to make informed decisions.

My data comes from the East Bay Regional Multiple Listing Service (MLS). It shows all homes sold through the Berkeley MLS (and doesn't include every home sale such as private sales), but I feel that it represents a significant sampling of home sales in the area. I download the information from the MLS, then import it into several File Maker Pro databases. Once in the databases, I can easily slice and dice it.
Here's the link to Lance Knobel's Berkeleyside Article "Berkeley home prices show uptick after years of slump" based on my Berkeley market research.

I use Cloud CMA to download the Zillow® Zestimate® data from Zillow® Online Real Estate Marketplace

Maps and graphs are particularly effective in trends and patterns, so thought you'd be interested in these.

Want to know where homes are in your price range?
What homes are selling for in your neighborhood?
Where Berkeley's largest homes are?
Where you're most likely to find homes with bedrooms you need?

I've created a series of interactive maps for homes which closed escrow in Berkeley and nearby communities. The most recent research and analysis is at the top; scroll down to see previous reports.

Been waiting to sell?
Want to be closer to family? Moving to a new job? Need a larger home ... or perhaps downsizing?

Now's the time you've been waiting for. Home prices are up ... and we know how to find highly qualified and motivated buyers for your home. 38% of our 2012 sales (including one for $1,360,000) were all cash! Put our deep local market knowledge, local expertise, superb marketing and tested negotiation skills to work for you!

Call us at 510-526-6668 (direct) or 510-684-3334 (cell) or email serkes@berkeleyhomes.com - let's meet.
Ira Serkes
Market Research From Previous Years